THOROUGHBRED SALES SELECTIONS
NACHO MAN rated top NZ 2YO in Australasia classifications 2010 .
I selected on line breeding in the 2008 Weanling sale a colt by Mr Nancho out of El Coriero, who was my only pick at the sale selling for $15,000. He returned to the 2009 Festival sale where he fetched $27,000 and still my only pick from over 500 horses at this sale, Chris Grace was interested in bidding for the colt, but a trainer he asked to look at the horse dismissed him. I called on Chris the next day and he told me what the trainer had said, I said that I had seen the horse at the sale and considered that he would be a good one and he should have brought the colt. As a result, he rang the people that purchased him and got into a syndicate they were forming. When he lined up to win the 2010 Manawatu Sires Produce Stakes, I did out the pedigrees of all the starters and said to Chris that on pedigree, the one we have to worry about is Jimmy Choux, Nacho Man went on to win the G.1 race and Jimmy Choux was third. Mind you, he went on to win 5 group ones and $3.6 million in stakes.
Below is how the pedigree read when I selected Nacho Man.
NOTE the dam won 2 races, the next 3 dams were all unraced and didn't leave a Stakes winner.
And he became the only Group, one winner, by his sire Mr Nancho, from over 200 foals.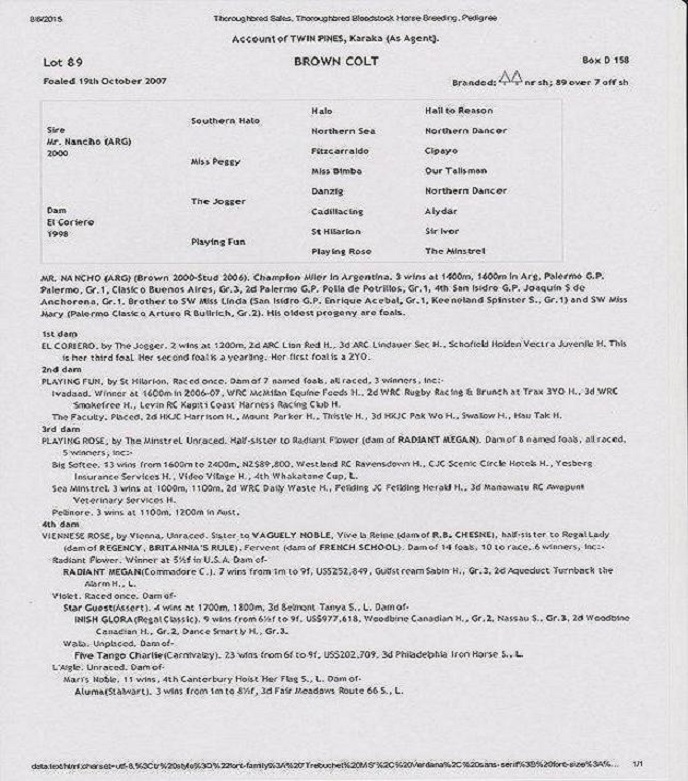 ANABANDANA Champion NZ 2YO 2011, sold for 26K in the weanling sale, Rated 1 point behind Mosheen that sold for $250K and Elite Falls that sold for $300K in Australasia classifications, these 2 were sold in the Inglis Yearling sale
I also selected on line-breeding from the 2009 Magic Millions National Weanling Sale, a filly by Anabaa Out of Great Notice, she was my only pick from over 500 horses in this sale; I didn't like any of the colts. Chris paid A$26,000 and on this occasion, she would not have been purchased on type as her trainer Don Sellwood stated he was not overwhelmed by her frame when he first saw her. However, she certainly furnished into a striking athlete. Don also stated that, but for being unlucky in her first 2 starts she would have been unbeaten in New Zealand. When Anabandana lined up in the Stella Artois Eclipse Stakes, I did out all the pedigrees of the other starters and again said to Chris Grace the one to worry about, from the pedigree analysis is Super Easy. I was correct, she won, Super Easy got second, then he went on to win 15 races, 11 of them in succession. Anabandana went on to win both of the Group1 races in NZ for two-year-olds, the Diamond Stakes and the same race Nacho Man had won the previous year, the Manawatu Sires Produce Stakes. Once again she was the best horse to come out of that sale.
Below is how the pedigree read when I selected Anabandana as a weanling.
Note The dam was unraced and the second dam only won 1 race.

The above 2 catalogue pages illustrate that if you breed to the right ancestors in the correct positions and are balanced for the sex of the foal, that they have outperformed any of the progeny covering 3 or 4 generations, if you mate without this knowledge you have every chance of joining the group that has 60% of Foals born that do not make the races and of the 40% that do, 60% of these do not win a race.
How successful are the yearlings that sold for over $1 million dollars?
Of the 218 that sold in Australia over the last 25 years, only 8 won a group one race and only three won more than its purchase price, in New Zealand of the 21 Million dollar purchases in the last 15 years (1999-2014) that are of racing age only one, Darci Brahma winner of 5 group ones, returned his purchase price in stakes won.


A LIST OF WEANLINGS AND YEARLINGS That I have selected in the last 2 seasons that you can follow as they are now starting their racing career. DATED 1-10-2014
I would have liked to have included a horse that sold as lot 59 in the March yearling sale 2013, he was purchased for $8K, he is named Jumbo Prince but he has started 9 times for 4 wins as a 2YO so I have left him off. Only two of these, Lot 183 has run once for a second placing and Lot 257 has raced for a maiden win, as I felt it would not mean anything mentioning them after these horses had won races, this gives everybody a chance to see if the selections based on my principles of breeding are successful.
I enjoy selecting out of the weanling sales as the horses haven't developed completely or in yearling sales with stallions or families that are not fashionable, as you get the chance to purchase these horses at a better price.
Naturally, I have no control over nutrition feeding, traumatic injury or infectious diseases and I have not seen these horses as well as no correspondence or information that they are in training or have got injured. The horses to follow are:
Lot 47 colt, Time thief x Countess of Fun, sold for 11K in the Inglis 2012 Australian weanling sale, he returned to the 2013 Inglis classic yearling sale winter book and was passed in at $3.5K with a reserve of only $5K.
Lot 183 colt, Jet spur x Repercussions, sold for $85K in the 2013 Cold Coast yearling sale
Lot 257 colt, War Pass x Debutante Robe sold for $10k in the 2012 Great Southern weanling sale. resold as Lot 676 for $75K in the Inglis premier session 2 yearling sale.
Lot 287 filly, Falkirk x Satonda sold for $1000 in the 2012 NZ weanling sale
Lot 380 colt, Snitzel x Run To The Moon sold for $25k in the Inglis January 2014 classic yearling sale
resold as Lot 113 in the Inglis ready to race sale for 120K another good pin hook.
Lot 685 colt, Written Tycoon x Dream Till Dawn sold for $50k in the 2013 Inglis premier yearling resold as lot 56 in the Ready 2 race for $175K,
Lot 1408 colt, Tavistock x Sidestar sold for $5,500 in the 2013 Festival sale
Karaka Weanling Sale 2013, I have listed 3 horses out of this sale they are
Lot 142 colt, Swiss Ace x Joiya colt sold for $30K
Lot 194 colt, Showcasing x Midnight Breaker he sold for $43K and resold as lot 645 in the 2014 Select sale for $130K another good pin hook.
Lot 280 colt, Per Incanto x Romantic Liaisons sold for 8,500
What Has happened with these above lots up till the end of the 2021 season
| | | | | |
| --- | --- | --- | --- | --- |
| Lot No | Named | Race record | Winnings | notes |
| Lot 47 | Heza Thief | 29-8-4-5 | $136K | |
| Lot 183 | Jetwings | 16-3-2-0 | $474K | |
| Lot 257 | Bondeiger | 49 -7-2-7 | $726K | second G1VRC Derby |
| Lot 287 | Somethingvain | 40-6-1-3 | $150K | second G.2 |
| Lot 380 | Odyssey Moon | 21-4-3-5 | $723K | second G.1 Now Sire |
| Lot 685 | Cavitation | 68-8-9-2 | $119K | |
| Lot 1408 | Only You | 11-3-1-4 | $40K | |
| Lot 142 | The Dom | 40-4-2-6 | $80K | placed Ryder Stakes |
| Lot 194 | Hardline | 12-4-0-2 | $607K | won Karaka Millions |
| Lot 280 | Rocanto | 53-10-5-9 | $302K | second plus third G1 |
30% OF THE ABOVE WERE PLACED SECOND IN GROUP ONE RACES AND 60% STAKES PLACED
Total of 339 starts for 57 wins and 82 placing's with stake earnings of $3,387 Million,
since 1-10-2014 till 1,-8.2021
These ten purchases would have cost $263k and if you take the four that were pinned hooked and resold them, you would have $510K, plus the winnings of the remaining seven, the return would be $2,130.000
If you raced them all, the stakes winnings return would be as stated above $3,387million.
It was very pleasing to see all of these horses got named and are all multiple winners.
A horse not to make my first top 10 list was my pick in the Magic Millions 2013 QTIS yearling sale, lot 338 colt by Lucky Owners x Bumpa he was passed in at $10K, he has since been named Great Sun and has had 22 starts for 5 wins, 6 seconds and 2 thirds in Singapore winning $270K, he is line breed 4M x 5F to Northern Dancer, he also has Fighting Fox 7M x 7F, this further demonstrates, like, in Odyssey Moon, you need other balanced line-breeding to get an above-average horse.
HARDLINE, THE DOM AND ROCANTO
I gave my client these three selections in order, out of the 2013 Karaka weanling sale. They sold for a total of $89,500; the return in their 2YO season was stakes winnings of $693,000. However his budget was $30K and Hardline sold for $43K so he was one of the underbidders, he decided to only buy my top pick and not chase the other two and so far The Dom which sold for $30K has only returned 80K in stakes, but is Listed placed. However Rocanto which would have been the cheapest buy at $8500 and was a finalist in the 2YO of the year has won stakes of $302K, Hardline returned to the yearling sales and was resold for $130K, there was $70 Million spent at the 2014 NZB sales and a lot of this money would have been chasing a horse to win the Karaka Million and as you would know Hardline was the horse that won, The Dom ran third in the listed Ryder stakes and Rocanto ran third in the Diamond Stakes G1 and second in the Manawatu sires produce G1
I was hopeful for a treble in this race, as in the last 6 years Nacho Man and Anabandana were both winners of this race and all the three horses were my selections in Weanling sales. I couldn't select the winner Marky Mark as he was not sold at a sale.
ODYSSEY MOON. The Second Top rated 2014 -2015 Australian 2YO 2015. Behind Vancouver that was sold at a sale. Selling as Lot 380 for $25K in the 2014 January Inglis Classic yearling sale as
Pride of Dubai and Exosphere who Odyssey Moon ran second to in the Group 2 Skyline Stakes were not offered. there was over $280 Million spent on Australian yearling sales in 2014 and a lot of purchases would have been to win the Golden Slipper, Vancouver the winner was by no means the dearest at $185K English and Lake Geneva second and third was not offered, Odyssey Moon ran 8th in the Slipper, he went on to run Second equal in the Sires Produce Group1. This horse was my only pick at a yearling sale of 2014 that I believed was good enough to list on my 10 sales picks. His pedigree showed linebreeding of Danzig 4M x 4F and this would be reported by all computer program analysts as a cross; yet the most important cross that made this horse is Snitzel's 5th dam, which was by a stallion named Alsab and the 3rd dam of Run To the Moon, named Cute Little Moon, who's sire Ack Ack sires sire, is also by Alsab giving this added line-breeding 7F x 7M , and this would not be reported by computer analysts, yet without this cross in the pedigree, Odyssey Moon would not be as good, Alsab was a great horse to line breed to on this occasion,an American Hall of Fame Thoroughbred Racehorse, who competed in the Triple Crown, winning the Preakness and running second in the Kentucky Derby and Belmont Stakes.
I believe this proves that you need a personal view of the total 7 generation pedigree and not a computer program.
Also, Jumbo Prince that sold for $8,000 and I left off as he had won 4 races has now got a record of 11 wins $893,000 in stakes and $118,000 in bonus, making him a million-dollar winner.
Since this website was started, I have been contracted to select horses in sales and these become the property of my clients, therefore I cannot show any updated selections.
HAROLD HAMPTON SELECTIONS IN SALES
Harold Hampton made 2 predictions that were published. He selected out of the 1984 Trentham sales lot 158 filly by Balmerino out of Octane that sold for 34K She was named Baloctane and won 6 races and became the dam of Regal Shot whose progeny won over 3 million and Lot 269 from the 1983 Trentham sales a Colt by Crested Wave out of Sound Of Music which sold for 50K Named Von Trapp (and Our Von Tramp in Australia) he won 11 races and $140K.
Entered 1st December 2019.

Checking out the last 100 Australasian bred group one winners in Australia to see if there is any formula to cut down your odds when selecting a yearling out of the sales to find that only 10% come from good race mares but 80% come from a winning mare, 15% are the 7th or more, so the majority of successful group one winners (85%) come within the first 6 foals.
I had seen this reported before but never have I seen it reported that winning mares are the formula to success,
Only 2 came from first foals out of an unraced mare.