INTRODUCTION
Over the last few years I was asked by friends to write a book to pass on my knowledge that I had gathered over 50 years on what makes a good racehorse through my study of pedigrees, I told them I couldn't do this as I was no word-smith plus there has been a lot written already and I have found most of these articles or books and pedigree programs have some points in their favour to consider, the books you can read are:
Quest for a Classic Winner, Tesio-A Master of Matings and Genetic Heritage, all by Ken Mclean.
Racehorse Breeding theories by Frank Mitchell, Pedigree Patterns Of Thoroughbreds, the Theory behind by Dr.Chantal Spleiss.North American Sport Horse Breeder by Kathleen Kirsan. The X Factor 2001 by Marianna Haun, Inbreeding to superior females 1999 by Leon Rasmussen and Rommy Faversham.
to name a few. However recent studies refute these last two books.
Then there are websites that are programmed to give you nicks such as, G1 Goldmine,
Enicks from Werk Thoroughbred Consultants, Siremate, True Nicks, Equineline and Arion Pedigrees, once again I am sure there are more.
Plus you have consultants who have websites that will advise you on matings,
On top of all that, you have writers that are also consultants like Alan Porter and Byron Rogers from America plus Kathleen Kirsan, Dr Chantal Spleiss whose website is www.magicmatchgenetic.com , as well as most of the above people associated with the books or computer programs mentioned above that write articles to recommend what mares should go to new stallions standing.
You have to agree there is a lot of information available to absorb and as they nearly all differ, a decision has to be made who is right and who is wrong. The most important information I can pass on is that Harold Hampton taught me that top-class Colts and Filly pedigrees are different, but when I read analysts' of all breeding theories only three, the late Clive Harper who also analyzed
Harold's work differentiates the sexes, Kathleen Kirsan and Dr Chantal Spleiss, yet I have found it makes a huge difference,
How I make a decision on what is a good pedigree, I use nearly 50 years of study with the total 7 generation pedigree in front of me to recollect in my brain and taking in parts of all of the above writings to make a decision on what is an excellent mating.
Therefore I would hardly ever recommend mares by certain sires to go to new stallions, it is too far-reaching
true nicks are very few and far between and even with a true nick, you will find the top horses have something extra in their pedigree (refer my article on Odyssey Moon).
Approaching my retirement year in 2014, I thought why not start a website, were everybody can view for free and have no copyright attached so if any writer wants to use my findings they will be welcome to these.
Plus I hope my writings convince some young people to take up this lifelong study, picking up this subject later in life as a hobby and being able to fully understand this subject would be an amazing achievement, but it would still be good to learn enough to grasp what you are being told about, re your matings, as we all state different things, examples are The Rasmussen Factor states inbreeding is in the first 5 generations, other say 3 or closer,
I write M for male and F for female, some others say S for a son and D for daughter or S for Sire and D for a dam of the horse showing up in the pedigree, naturally, there are more terms used that differ.
The website also enables findings to be updated regularly as new discoveries are made.
I started writing in June 2014 as well as collating lists and the website became registered in September 2014. Trusting you find what is written interesting and helpful.
Inserted 2018, At a recent Pedigree & Genetics symposium, four respected Equine Genetics all confirmed that the X factor relating to the large heart descending from the great mare Pocahontas is a myth. So I have removed the reference to this from the website.
Also, a recent study of the Rasmussen factor showed that this method does not produce any more good horses than the norm.
HOW I GOT STARTED
I first started learning from the late Harold Hampton, regarded as New Zealand's leading pedigree analyst and a world-renowned expert on thoroughbred bloodlines before he passed away at the age of 80 in August 1992. He became known as the selector on a pedigree of the great racehorse BONECRUSHER. Hampton published two books in the early 1960's the widely distributed and sold, The First Scientific Principles of Thoroughbred Breeding parts 1 and 11.
In the beginning, I would go along to Harold Hampton's seminars to help set up the projectors and chairs accompanied by Eugene Elliott, (known as Gene), Harold's nephew and my groomsman and lifetime friend, who also possesses a great understanding of pedigrees, when we are together, we seem to always get around to discussing the pedigrees of winners that showed up in that week.
I used to hear Harold mention all these horse's names from the past, however as they were not horses that raced in New Zealand, the names often meant nothing to me, I was like Steve Davis our outstanding Auctioneer has been heard to say, it is all nought and crosses, I believe that may be fortunate, for if he knew that the line-breeding was not there and the horse would have little chance of becoming a good winner, how could he sell the horse to the buyers!
Over the years I took an interest in and studied pedigrees then became President of the NZ Thoroughbred Pedigree Research Assoc when Harold Hampton was our patron and my mate Gene was the secretary, we used to hold meetings once a month with between 70 and 80 people attending.
A lot of them would come along and find it difficult, as I did at first, failing to give learning a chance and never returning. Some would come to get a free mating analysis, while the true believers that made up the bulk of the members, were thirsty for knowledge on what makes a good racehorse.
SELECTED IN SALES
During the last 40 odd years, I would look at most pedigrees of horses in Australasia being sold that I thought would sell around $30K or less, so I didn't spend much time on the Premier sales. I would then select a couple of horses to see how they would turn out. In some sales, I was unable to find one horse in the total catalogue being auctioned that I liked on my line breeding principles.
Naturally, I could list a lot of good horses that I selected but where would be the proof, there are a couple I would like to mention as I had told people about these horses, I selected at the Claudelands yearling sale in 1983 a colt that sold for $11,000, he was named Red Anchor winner of 4 group ones and 3 group two races including the Cox Plate and the Victorian Derby and became Australian horse of the year 1985. Red Anchor was sold just 3 days after Harold's pick Superbrat brother to Bonecrusher was auctioned at the Te Rapa racecourse, I believed I had found a champion as well and so it proved.
Another was named Makarpura Star, back in 1993 a good friend of mine, the late Dave Steele breeder of group one placed Pure lust called in at work and asked me to go to the Claudelands yearling sale, workload caused me to decline. He asked me for my pick of the sale and I said the Native Kingdom colt out of Regency Art, I went over after work and Dave said to me, "give me $375 and you're in for a quarter", as he had brought the horse for $1500 in conjunction with Gary Hennessy. I said to Dave and Gary if I get involved, the colt would have every chance of breaking his leg before he got home! Dave ended up pulling out of the colt as well.
My statement was after the bad luck I had over Christmas with my own yearling colt as well as my newborn foal, which I cover in a later article. Gary Hennessy, selector and part-owner of the stallion Ocean Park, ended up with Makarpura Star to syndicate with first-time owners buying in and the rest is history. He became Horse of the year Hong Kong 1995 winner of 4 Group one races. and was honoured to be the first NZ horse to enter the Hong Kong Jockey Club Hall Of Fame.
He became the only Group One winner, by Native Kingdom from over 200 live foals by this sire.
Therefore moving on nearly 20 years later until Chris Grace appeared on TV in April 2011 and spoke about me being his pedigree advisor for him to purchase the winners of the Group One Manawatu Sires Produce in consecutive years and at this stage they were the only two horses that I had selected for him, Anabandana and Nacho Man which caused more interest on my pedigree principles that I believe creates good thoroughbreds.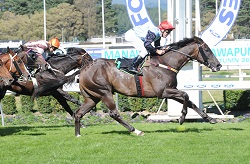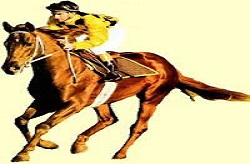 NACHO MAN RED ANCHOR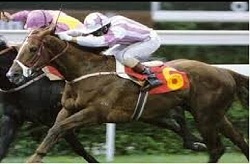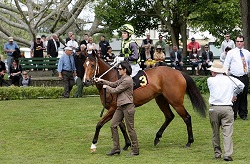 MAKARPURA STAR ANABANBANA
In regards to selecting Red Anchor, Anabandana, Nacho Man and Makarpura Star, I selected these on pedigree balance alone, therefore I'm really saying that most of the other 1850 horses that were in the sales that I selected these four horses out of, could have been bred better and with my input they would have been.