ITEMS OF INTEREST
I have been posting items of interest since September 2016 on mateyourmare Thoroughbred breeding forum , click to join there is no cost, however you still might find these other articles below interesting.

Riverman appears in the pedigrees of over 50% of the top 12 mares in the last 50 years, on the dam line of the sire or dam.
Why has Street Cry sired two of the best mares in the world? is Riverman the secret.
Winx, winner of 35 from 41 races of which 32 are group races including 23 group one wins and 31 wins on the trot.
Zenyatta winner of 19 from 20 starts of which 17 were group races including 13 group one wins, only beaten once into second at her last start before retiring.
Street Cry's next best is the 4 times group one winning 3YO filly, Oh Susanna then the mare Sweet Reason and the stallion Street Sense who both won 3 x G.1 races. An interesting note was that Street Cry and Anabaa has the same 2nd dam sire Riverman and another mare I put right up there with the above
Goldikova by Anabaa, winner of 14 Group one races, has a double of Riverman, both being the 3rd dam sire on the sire and dam lines,
Treve winner of 6 Group ones including 2 x Prix de I'arc De Triomphe in consecutive years, her dam is by Anabaa and 2nd dam is by Riverman another double.
Maykbe Diva 36 starts 15 wins,10 group wins of which 5 were group ones including 3 x Melbourne Cups in consecutive years, dam by Riverman
Bosra Sham winner of 7 races from 10 starts, 6 Group of which 3 were at group one, dam by Riverman
Typtych another champion mare she won 14 races and 9 of them were Group one races she is by Riverman.
I have checked all commercial stallions standing in Australasia to find only four that have Riverman to the dam line, he is the 2nd dam sire of Who's That Cat standing in Queensland for $2,200 www.wtcstallion.com.au the 3rd dam Sire of Hardham standing in Victoria the 4th dam sire of Dominant standing in Queensland and the 5th dam sire of Territories.standing at Darley for $16,500 www.darley.com.au

I find it interesting that DANZIG, SIR TRISTRAM and RED RANSOM never won a Group race, yet over a third of New Zealand stallions standing descend from these three sires and we are told stallions must be group one winners to be commercial. Yet In Australia,
I AM INVINCIBLE, only won at group 3 level, and he stands this year at $192,500.
A stallion named ADRAAN who stood in Australia in 1982 for only one season.had 27 live foals and 23 were named, he sired, Magic Flute G1, Adraanito G2, El Vaquero G2 Khaptivaan G2, Adraanette G.3 Aussie Consul G.3 and Bataan G.3, so that was 7 Group winners, 25% for foals born and over 30% for named foals, and 20 of this crop were winners, would there have ever been another stallion in the world that could match or better these figures?
Did you know that ZABEEL a G.1 winner and champion sire dam was a twin, another to be out of a twin was GUNSYND winner of 29 races including the 1972 Cox plate plus the Epsom, Toorak, and George Adams and Australia Champion Racehorse 1973, he went on to sire the dam of Emancipation the 1984 Australian Champion Racehorse and now with scanning techniques, we eliminate one. So I don't think this can ever be repeated.

SERVICE FEE'S
I was talking to a client in America and it brought to mind a horse we missed out buying in the 2003 Magic Millions Premier Yearling Sale, he was by Distorted Humor out of Miss Tatum, our budget was 20K and he went for 21K to Malaysia, he was named Joker Mine in Australia and changed to Fast Flying in Malaysia, he won 9 races and $650K.
The reason I mention this is that Distorted Humor stood at Grand Lodge stud Victoria Australia for $12,000 in the year 2000 and dropped to $10,000 in 2001, he never re shuttled and in 2003 he became the sire of the Kentucky Derby winner Funny Cide, in 2008 his stud fee was $300,000 US ,
I believe this illustrates you cannot tell what a stallion is going to go on and do.
THE STALLION FOXBRIDGE
headed the NZ sire's premiership for 11 seasons, dominating the racing scene in the 1940s. His accomplishments continued as a broodmare sire where the success of his daughters at stud saw him crowned as champion broodmare sire 11 times. Because of World War II, very few of FOXBRIDGE'S progeny raced in Australia, yet their earnings at the time of his death were a British Empire record.
A single day's racing, Cup Day at Ellerslie on Boxing Day of 1944, illustrates
FOXBRIDGE'S dominance of the era and the great range of his stock's talent. On an eight-race card, he sired the whole card his progeny won the two two-year-old races, two one-mile races, the Queen's Plate and Christmas Handicap, the six-furlong Railway Handicap and the two-mile Auckland Cup.

RACE TIMES
MABEEL an $80K yearling purchase, scorched to an impressive victory in a blistering 1.21.52 for the R85 1400. To put this time into context,
brilliant three-year-old Xtravagant winner of the group one 2000 Guineas by 8.5 lengths, went a full second slower in 1.22.62 in the following race, while Seventh Up could only record 1.23.97 in the R75 last race of the day. My horse Somethingvain ran 5th, 7.4 lengths behind Mabeel yet her time was 1.22.69 and based on the time this would place her second to Xtravagant, and won the last race by over 10 lengths,
A length is just under 2.5 meters and good horses run 7 lengths in a second up to 1600m
5-12-2015 I love group one races but I was so disappointed in the Captain cook stakes today, race 6 was run in a time of 1.36.62 and race 9 R75 was run in 1.36.79 and the group one in the middle of these races were run in 1.38.73 that's 2 seconds slower, what were the jockeys thinking? the backmarkers had no show did they all think they were on Phar Lap
PIN HOOKING
20-11-2015 There is money to be made pin hooking if you know what you are doing, look at these results from the Ready To Run sale just concluded.
| | | | |
| --- | --- | --- | --- |
| Lot number | Breeding | Purchased For | Sold For |
| Lot 161 | Tavistock x Bantry Bay | $400 | $250,000 |
| Lot 98 | Tavistock x Tief | $800 | $60,000 |
| Lot 313 | Shocking x Just So | $4,500 | $110,000 |
| Lot 254 | Alamosa x Ferran | $2,000 | $45,000 |
| Lot 14 | Per Incanto x Platinum Belle | $1,250 | $25,000 |
| Lot 237 | Cecconi x Dr Klaire | $15,000 | $190,000 |
| Lot 193 | Showcasing x Cannsea | $7,500 | $70,000 |
| Lot 390 | Skilled x Oh What a Song | $14,000 | $130,000 |
| Lot 224 | Guillotine x Deceit | $10,000 | $90,000 |
| Lot 115 | Smart Missile x Venetian Lady | $30,000 | $260,000 |
| Lot 235 | Iffraaj x Double Elle | $5,000 | $42,500 |
| Lot 11 | Skilled x Pinsofjoy | $8,000 | $60,000 |
| Lot 346 | Hussonet x Loose Caboose | $37,500 | $260,000 |
| Lot 75 | Tavistock x Strabelle | $22,000 | $150,000 |
| Lot 243 | Iffraaj x Electricity | $50,000 | $340,000 |
THOROUGHBRED ARTICLES



BONECRUSHER
In the 80s Harold was commissioned by Peter Mitchell to select a horse for him and after analyzing a few sales, he discovered a pedigree that got him very excited. He told me and his Nephew Gene, that he had found a pedigree of a horse, that he believed would be a champion and he had not seen a pedigree like it in years, Come January 1983 at the Dalgety yearling sale held at the Te Rapa racecourse, Peter Mitchell purchased the Pag-Asa colt out of Imitation for $3500. He was subsequently named Superbrat the older brother to Bonecrusher and after the sale, he told us the lot number and said it's up to us to find out why he rated it one of the best pedigrees he had ever seen. Harold would not tell you his findings and he would expect us to do the homework and come back to him with what we thought was the answer. The following year I went to the Wrightsons Claudelands sale to view the yearling foal who was later to be named Bonecrusher and if priced right I would consider buying him but only if Peter Mitchell had not taken heed of Mendel's law that Harold would have advised him about, (refer Mendel's law under its own heading on this website.) I knew Peter from when I played snooker at the Ellerslie snooker rooms, I looked for him and as he was there, knowing It would be unethical to bid against Peter as he had paid the commission for this information I sat behind him in the scaffold plank seating. The bidding stalled under $2000, I remember it vividly, a gentleman in a yellow jumper came from outside and started the bidding again. So lot 146 Pag-Asa out of Imitation was finally knocked down for $3250.
When Bonecrusher made his first start at Avondale on the 31st of August, I called on Ron Taylor,
the jockey who rode the winner of the 1964 Melbourne cup, Polo Prince and came second in the same race on Red Crest in 1967 then on retirement from a great riding career, Ron became Studmaster at El Ganador Stud which stood Pag-Asa, the sire of Bonecrusher.
I said, that 'champion' I was telling you about is having his first start his name is Bonecrusher,
(I was hoping this horse had the dominant gene), I called in the following week and Ron said to me, some champion, he couldn't even run a place, as he had finished fourth. On his the next start he won the Terrific maiden and Ron said," it's only a maiden," He made his third start in the Castlemaine XXXX, finishing third, next up won the Hobson Handicap. His fifth outing was in the Eclipse Stake finishing second to Star Board before being promoted to first on a protest. He had 3 more unsuccessful starts as a 2YO in Australia.
Therefore his 8 starts as a 2YO read 3 wins (1 on protest) and once third, this scarcely reads like a champion's form and my good friend Ron Taylor was giving me a friendly hard time about this, the rest is history winning 9 group ones including the Cox Plate rated the race of the century-plus the NZ and Australian Derbies, going on to be the first NZ thoroughbred to win over $1Million.
The Story behind the breeder of Bonecrusher The late Bill Punch was a sheep and cattle farmer from Te Kuiti and a hobby breeder who studied line breeding. He not only bred the great Bonecrusher but also bred Lancelot, refer below and Oarsman who won the Wellington Cup, G1 and was second in the Auckland Cup G1 in 2003, he then set off on his journey to win the Melbourne Cup, starting 5 times including the Caulfield Cup but it was not to be and was retired after these unsuccessful runs in Australia. He knew that with all this balanced linebreeding to the below staying type horses, this horse would run a good 3200-meter race which it proved and maybe he could become a Melbourne Cup winner.
The mating to produce this Wellington cup winner was to a stallion named The Son a one race winner of the unraced stallion Noble Bijou, while the dam was an unplaced mare named
Virginia Lake by Royal Loch. he had bred her on the 3/4 cross of Fishermans Wharf and Alcide,
both by Alycidon out of a daughter by King Salmon. he was breeding for a colt as her pedigree suited a colt only and getting a filly was a disappointment so he decided when he sent her to stud he needed to balance this breeding further and hope for a colt and he looked for a stallion with a son of Alcide and thus found The Son, standing at $1000 in Hawkes Bay, This stallion also carried the reverse cross through Aureole of Alycidon, Hyperion over a daughter of Donatello and Alycidon is by Donatello out of a daughter of Hyperion.
Additionally, the second dam of Virginia Lake, named Plum Lane was a full sister to another good horse Bill bred, named Lancelot. He won 9 Races including 2 x Group 3 races in Victoria ran 2nd in the G1 Underwood Stakes plus the Adelaide Cup as well as being placed twice in 2 x Group 2 races and once in a Group 3 race, Bill had seen Oakville the sire of Lancelot was line-bred to Sans Souci and that was why he mated Lancelot's dam Cordon to him as her sire Broiefort carried an independent line of Sans Souci in the correct place.
I had spoken to Bill a few times over the years and was impressed by the amount of study he did to select the matings and with these results, you would have to agree he knew what he was doing when it came to linebreeding.
Below is the pedigree of Oarsman to study and follow my writings.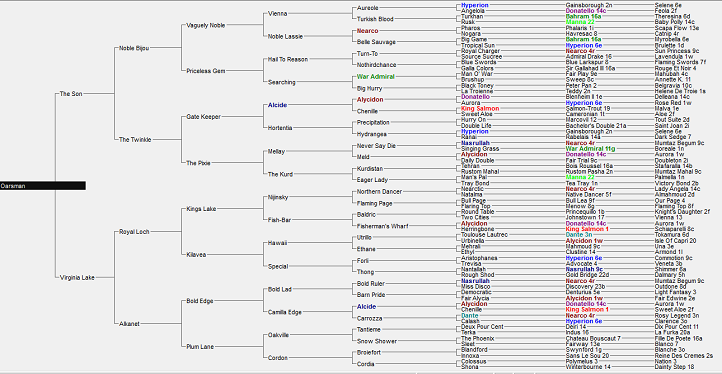 Click here and after redirection click on the image to enlarge
IL TEMPO- NZ'S BEST STAYER
If this story is true, this will give heart to breeders that don't know anything about line breeding and prefer to rely on luck. The story that I read years ago, was that a Mr L Chapman had a mare he had bred to a couple of times. She was called Timing and up the road, a stallion named Time and Again. So he thought, seeing as they both have time in their name, he would walk Timing up to be served. The result was our greatest stayer of all time,
Il Tempo, winner of two Auckland Cups and the Wellington Cup in world record time, along with other staying races. He was the third foal but first, on this mating, Timing went back twice more to produce the mare, Two Timing and another colt called Perpetual. I have looked at
IL Tempo's pedigree and the balanced line breeding in this mating has the sires Chaucer, backed up by his sire, St Simon, Cicero, The Tetrarch, Bona Vista and Hampton,- how appropriate that this sire was Harold's surname. I would rate this mating very highly on my analysis and so it proved.
WILL WE EVER SEE THE LIKES OF AGAIN
Grey Way (the Washdyke Wonder) 1973 NZ Horse Of The Year, who won 51 races and paid a dividend in 99 out of his 164-lifetime starts, winning the group one Easter Handicap in 1977, his jockey, Bob Skelton was reported to have said after he was congratulated on a great ride "that he just went where the horse took him". He was line bred 6F,7F x 6m to The Tetrarch who was voted the best British trained two-year-old of the 20th Century. When might we expect to see another
Sir Slick ('The People's Champion') who had 151 starts, 22 wins, 61 dividends and over $2 million in stakes? Due to the way we select stallions to stand in NZ now, I do not think so.
ANALYSING PHAR LAP's PEDIGREE
Night Raid, his sire carries to Phar Lap, Stockwell 5M, 7F, 7M, 7M and the full brother Rataplan in the 7th generation to a daughter plus King Tom a half-brother 7F,7M,7F and a stallion named Buccaneer in the 6th generation.
Entreaty, his dam also carries to Phar Lap, Stockwell 7F, 7M, 6F and his brother Rataplan again in the 7th generation but this time to the opposite strain through a son, plus King Tom the Half brother 6F,6F and a full sister to Buccaneer, Lady Audley.
Therefore his pedigree showed 7 lines of Stockwell sex balanced for a colt (that's why his sisters had limited ability) the full brother Rataplan twice and once again sex balanced, plus King Tom 5 times sex balanced and the full brother and Sister, Buccaneer and Lady Audley.
This makes the famous mare Pocahontas show up 14 times as the dam of these 3 sires.
I was given a book 15 Years ago written on Phar Lap by Geoff Armstrong and Peter Thompson that had an Article which came very close to my findings on Phar Lap's pedigree.
Dr W.J.Stewart McKay wrote, Phar Lap was the incarnation of Stockwell "the emperor of stallions"
I believe this shows that the sire and the dam is only part of the makeup of the characteristics of the resultant foal and the line-breeding has a large influence on the racing ability as well.
Stockwell won 11 of his 16 starts and he was leading sire in GB and Ireland 7 times and 2nd 4 times.
I do not believe you can ever copy Phar Laps build-up of line breeding with the large and diversified gene pool we have today.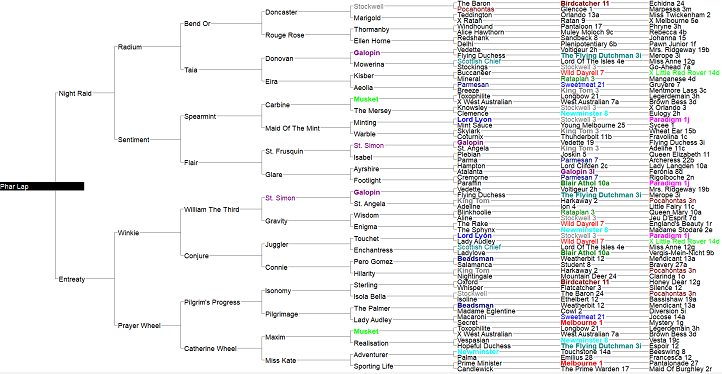 Click here and after redirection click on the image to enlarge
RACING HISTORY OF PHAR LAP
Phar Lap had 5 starts as a 2Yo, his first 4 starts were unplaced, winning his last start that season by half a length, then as a 3yo his first 4 starts were also unplaced before running second followed by a win, so at this time his record was 10 starts 2 wins, 1 second and 7 unplaced, didn't read like a champion or even a good horse at that time, did it?.
However, he then won his next 2 starts followed by 2 further placings before starting on a 9 winning streak, returning as a 4yo he was beaten into second in his first start, before winning 14 straight until his last race that season finished on a second placing. He started 10 more times as a 5yo and was only beaten once when he was given 10 stone 10lbs (67KGs) in the Melbourne Cup, as he had won it previously, the winner carried 47Kgs.
Phar Lap had 51 starts for 37 wins and 5 placings
PHAR

LAP, THE INCORRECT STATEMENTS SAID IN HIS MOVIE
The statements were:
1. Harry Telford

Phar

Lap has Carbine on both sides of his Bloodlines" this is false, Carbine is only in the sire.
Footnote Carbine only gives his Y chromosome to his son Spearmint who then only passes his X chromosome to the dam of Night Raid, his Y chromosome is gone.
2. Harry Telford "he has the greatest horse of all Carbine through Musket's pedigree". And he repeated to his wife "he's got good blood further back, no one looks further back,
"do you know what this horse has in his bloodlines, Carbine twice through Musket"
False again, Musket is the sire of Carbine so Carbine cannot be in Musket's pedigree.
3. Part owner MR Davis "I have been told the sire and the dam never won a race between them" False: Night Raid won 2 races albeit one was a dead heat

4. Harry Helford "his name must have 7 letters as the last 4 Melbourne Cup winners had 7 letters" False: You had to go back to 1923 before you get to the winner Bitalli ,then Poitrel ( 1920) Sasanof (1916) and Piastre (1912) to get to the 4, with 67 Runnings of the cup up till Phar Lap was named, a total of 15 horses had 7 letter names including Carbine in 1890.